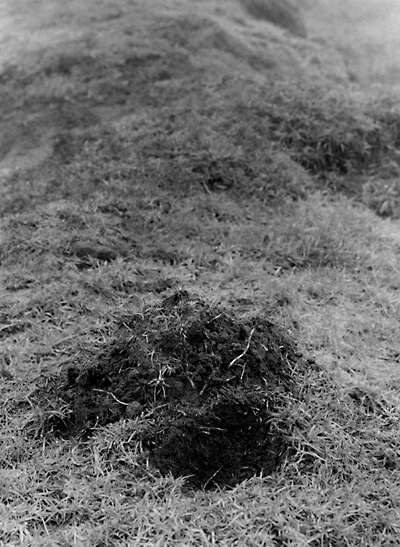 'One Breath'
A small excavation of 0.071 cubic feet: the volume of one breath.

Above Rosedale Abbey*, North Yorkshire.
The first 'small excavation' piece; a very simple reminder of the
relationship we have, both with time and with the physical nature of our planet...
Dust to Dust, and Ashes to Ashes, perhaps...
but also a small symbol of a person 'passing this way'...

*Rosedale Abbey: A village on the North York Moors and the site of,
amongst other things, an old ironstone mining industry, and a
notorious stretch of road known as 'Rosedale Chimney'.
From the age of around 13 I began to explore my northern
surroundings by bicycle, and Rosedale Chimney will forever be
imprinted in the conciousness of anyone who's ever tried to cycle
from Leeds to Whitby - via Rosedale Abbey!
It seemed particularly appropriate therefore to be the site of my
very first 'small excavation'; a kind of pilgrims return, eleven years
later, to a place that still has echoes of so many pasts...
both of mine and of unknown others...